A more-relaxed beach town experience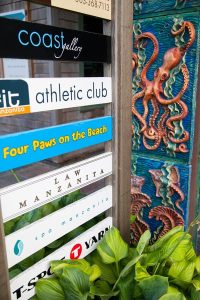 Manzanita is the perfect coastal getaway town for those looking for an authentic yet relaxing experience.  You won't find miles of shopping malls, casinos, or department stores.
But you will find genuine people, exquisite baked goods, old-fashioned gift shops, delicious candies, quality fashion wear, crafts and more.
Laneda Avenue is where the action happens in Manzanita, trailing all the way from Highway 101 to the beach. Sunset Surf happens to be located on Laneda and Beach Avenue, so all the dining and shopping is a leisurely walk away.
The town of Manzanita also has a lot to offer in way of events, hiking, and outdoor activities:
Muttzanita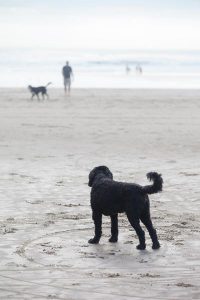 Each year in September, dog lovers and their four-legged pets take over the town of Manzanita for an all-day, dog-inspired festival that includes a lavish pet parade and a doggy Olympics. Fun competitions for dogs of all shapes and sizes can be found all over town, along with vendors, pet photographers, contests, and even a talent and fashion show. Awards for best dressed, funniest costume, tallest, shortest, furriest, and more are given out prior to the elaborate closing ceremonies.
Fourth of July
The town of Manzanita gets together to celebrate the Fourth of July all day long, including a giant pancake breakfast fundraiser, barbecues, and of course a parade. Local organizations, marching bands, decorated floats and dancers all parade down Laneda Avenue, before gathering for the annual fireworks display at dusk.
Polar Plunge
Each year, hundreds of people gather on the Manzanita Beach on New Year's Day in their swimming suits gearing up to welcome in the New Year right! How, you ask? By making a mad dash towards the Pacific Ocean of course!  A tradition that began back in 2004 with only half a dozen people has grown to be an annual tradition for hundreds of loyal followers. Join in the fun – just be sure to visit the bonfire right afterwards and warm up your toes!
Neahkahnie Mountain
Possibly the most rewarding hike on the entire Tillamook Coast begins right at Sunset Surf's backdoor. It's a 3-mile hike to the summit, where you will enjoy panoramic views of the coastline and, on a clear, sunny day, you can see nearly the entire county.
Not only are the views fantastic, but the mountain is also home to a legend of buried treasure. Every year, hikers of all ages and skill levels scour the mountain in hopes of finding the chest of gold that was allegedly buried somewhere on the side of the mountain by a crew of Spaniards who wrecked their ship on the Nehalem Spit.